KHUSHIYAN FIRST – 1% Cashback on IDFC FIRST Bank Debit Cards (2022 Diwali offer)
October 14, 2022
IDFC First bank launched its Festive offer on 10th October 2022 and is rewarding users with 1% cashback on their spends from the period 10th Oct -10th Nov 2022.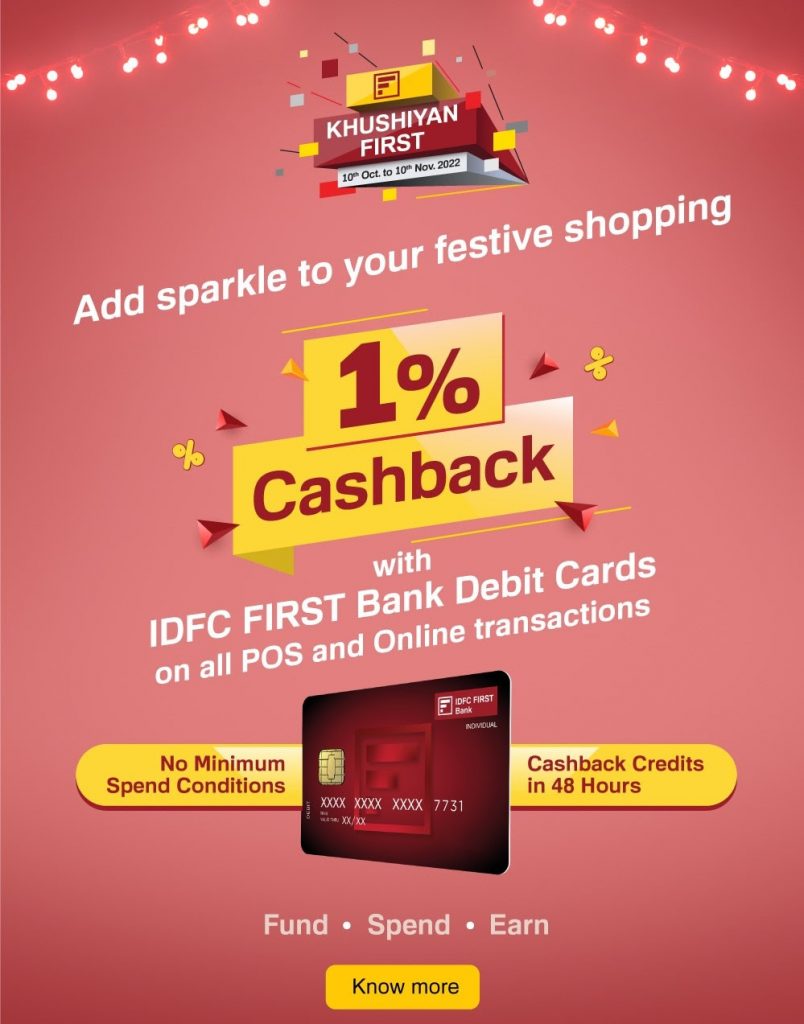 Offer Details
| | |
| --- | --- |
| Offer Details | 1% cashback on all IDFC Debit card spends |
| Minimum Spends | Nil |
| How to avail | All types of Spends – Tap / Dip on PoS (Point of Sales) & Online all eligible |
| Maximum cashback | Rs 2500 |
| Excluded Transactions | ATM cash withdrawals, Wallet uploads, Debit Card EMI transactions and Fund transfers |
| Eligible Customers | Anyone receiving notification from IDFC First bank |
| Any other Important clause | Cashback limit of 2.5K is on customer ID and if you have 2 cards, then cumulative spends are calculated |
My views on this
IDFC credit card is giving 5% reward rate for their Diwali offer which I have enrolled but the unhindered reward rate of 1% cashback on a debit card is also pretty good. The good point is no minimum spends and the cashback is posted against each transaction within 48 hours.
Two major places where I have used this offer where credit cards would not have worked or added to my cost due to transaction charges
NPS – Debit card transactions donot have any charges while credit cards have transaction charges so it's a cool 1% cashback if you use IDFC first card for NPS transactions.
You can spend Rs 50000 on NPS for availing maximum tax savings so this will be cool Rs 500 cashback for me.

Paytm Credit card Bill payments – Paying credit card bills through Paytm using your debit card you can use this card for 1% cashback

I really wish IDFC was also giving reward points on their debit cards but that's another topic.
All in all, a nice offer to help you do savings of Rs 2500 this Diwali
So, do you plan to use this offer? Do share any other useful way you intend to utilize this offer.
If you liked the article, please don't forget to share.
Keep reading and please keep sharing…More Bachat on the way!!!