American Express Insurance Spends offer 2023
January 4, 2023
American Express India has come out with a new offer on insurance spends for the period till 31st March 2023 and if you are an Amex card holder, this is a great offer for you to enroll and earn some Membership Reward points to your account.
Offer Details
Offer reward rate
Earn up to 10,000 Membership Rewards® points on Insurance Spends
Normal Points
–
Reward Rate
5 MR / Rs 100 spent on Insurance
Minimum Spends
–
Maximum Spends
Rs 2 Lacs
Spends Period
22nd Dec 2022 to 31st March 2023
Spends
All insurance transactions directly done at Merchant
How to avail
Enrollment required (to be recd on mail for respective card)
Confirmation
Confirmation Email will be received
Bonus Points Credit
Before 31st July 2023
Cards Applicable
Amex Smart Earn, Amex MRCC, Amex Gold Card, Amex Plat Reserve, Amex Plat Travel
Eligible Customers
Anyone receiving notification from Amex via email, sms or App push notification.

For detailed T&Cs of this offer, Click Here
How to Enroll for this offer
You need to click on the 'Enroll Now' button received in the communication from Amex.
Enter your Card Details and submit the same.
You will receive a message saying – Thank you for Opting in for the insurance offer

Also, an email is received confirming the same
Sharing the screenshots for your reference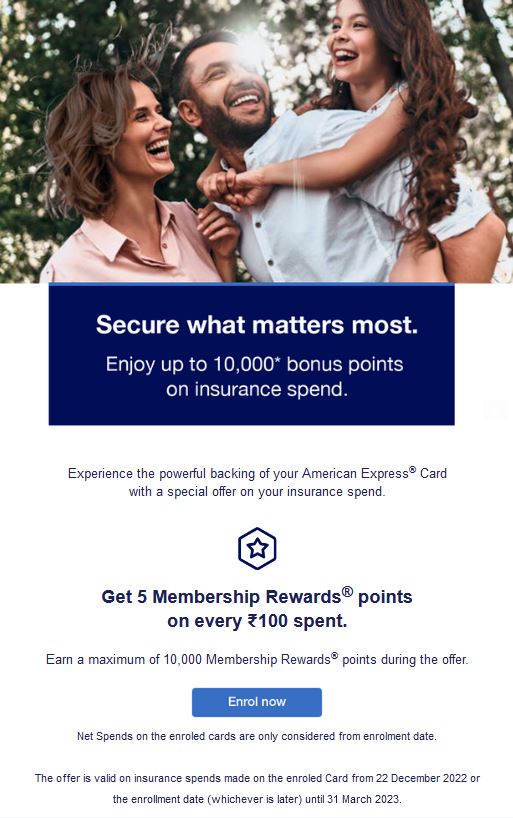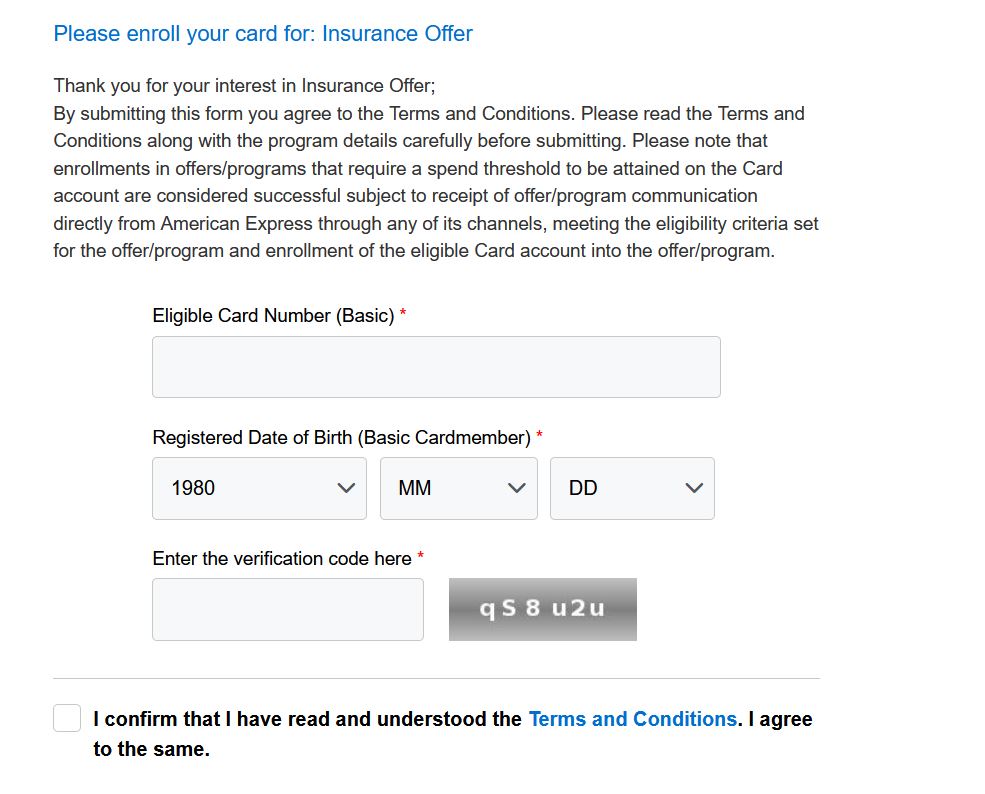 Why Amex comes out with these Insurance offers
Normally Amex does not give any reward points on their card spends but since this is the financial year end quarter and people are trying to save tax and have high insurance spends during this period, so Amex comes out with these offers to stay relevant in these months and corner some business from competition.
My Take on this offer
The offer on Amex has a good reward rate of around 2.2% (assuming redeeming on Gold Collection). It could even increase if redeeming for Hotel points or miles etc. but that depends on your redemption plan.
Normally the other cards donot provide any points on insurance spends or have some capping on spends on monthly basis or per transaction basis. In this case, you do not receive reward points for your insurance spends. Here, this offer will come in handy. You can make a payment of upto Rs 2 Lacs and you will receive straight 10000 points. Second, this could come handy for people who have milestone based cards like Amex Platinum travel credit card where you need to spend Rs 4 Lacs for Taj voucher and 50% of that target can be done through this offer.
As I have mentioned in my earlier posts, Amex India has few great cards with pretty high reward rates if used correctly and this is one of those examples.

If you want to apply for Amex India cards to avail these kind of rewards but are worried by the high annual fees, then you can use my referral link for MRCC to get first year free and reduced fee

There are multiple benefits for you to apply through referral link compared to direct application and you can use the same referral link to apply for other variants as well to avail the benefits.
If you liked this post, then please do share and comment.
Keep reading and please keep sharing…. More Bachat on the way!!!!