Mobikwik Review and how to earn and redeem Mobikwik Supercash
June 25, 2022
What is Mobikwik
Mobikwik is an e-wallet or digital wallet where we are storing our cash and then using for making our digital payments in offline and online space and it helps me save a lot of money on my shopping and recharges.
We all know Paytm, GPay & Phonepe are the most popular wallet app & available at nearly all stores however over the years, cashbacks and discounts have significantly reduced for them. Hence, I use multiple other apps for making my payments which helps me save significant amount of money adding to my bachat.
One of them is Mobikwik. They also have UPI service and you can use that.
How to join Mobikwik
You can directly go to Google Playstore or you can join that through my referral link:
https://sak38.app.goo.gl/ad5AbXZmhCyQsm9t8
(If you join through this link and do first upi transfer, you will receive joining benefit cashback as well.)
And install the app. You can setup your UPI id which will have the format as per your phone number – 9XXXXXXX@ikwik as upi handle.
For using wallet features you need to submit one KYC documents and once KYC verification done, you are good to use this. I will suggest to do full KYC verification to enjoy full benefits of this app.
How Mobikwik works
You can do either payments using Mobwik wallet or upi handle.
You can add money to your wallet and it reflects as Wallet Balance.
You can use this wallet balance to make payments to pay your bills and recharges etc or make payments to various websites which have wallets -> Mobikwik as an option and get additional cashback on Mobikwik on making the payment as part of promotion ongoing with the brand website.
You can check your available balance by clicking My Wallet and you can see the amount in wallet as shown in below screenshot.

Mobikwik Supercash Rewards Program
Mobikwik rewards you into 2 ways:
Cashback – Traditional cashback goes into your wallet with no restrictions
Supercash – Cashback in form of rewards which you can use to get discount of 5% at time of transaction
How to earn Mobikwik Supercash
Mobikwik has a very unique program for rewards which is named as Supercash. You may do some payments / activities and add relevant coupon code for them and you will get supercash.
One method to earn Mobikwik Supercash is while paying some bills you can use codes which help you earn supercash. I typically use coupon code – CCPAY for getting supercash by paying my credit card bill.

You can go and check under 'offers' sections for other codes which can help you get supercash & direct cashback into your wallet account.

How to use Mobikwik Supercash & get discounts
Now once you have earned supercash, you can use this supercash for saving 5% on every payment where you apply this supercash.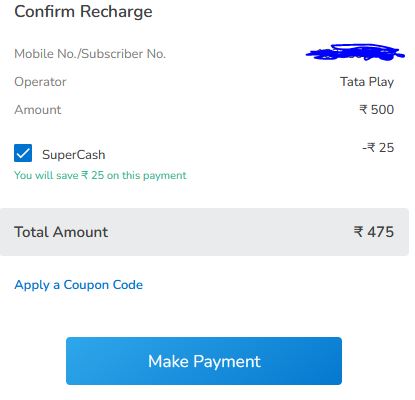 You just need to make a normal bill payment for your phone by entering the details and amount and then at the time of payment, you need to select or tick the supercash option.
This will automatically calculate 5% amount and the balance to be paid through card or wallet balance is Rs 475 thereby saving you Rs 25 here.
Similary, you can use mobikwik app to scan the offline merchant's Mobikwik QR code and while making the payment, tick on supercash to apply and get the discount.
Mobikwik supercash is way better than cashback because you save 5% on nearly each transaction which sometimes is better than even credit card rewards, if used smartly.
Supercash expiry:
As you can see, Mobikwik Supercash expires within 3 months.
But they give you ample opportunities to earn supercash as well.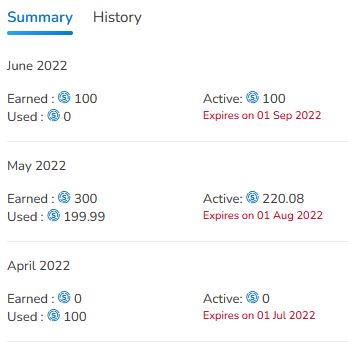 As you can see, Mobikwik Supercash expires in 3 months so you need to redeem within 90 days.
But they give you ample opportunities to earn supercash as well, so if it expires before redemption you can earn more
Mobikwik cashback
Mobikwik has many tie-ups with other e-commerce sites like Bigbasket, Ajio, travel websites etc and at the time of payment, you can check wallet sections if that e-commerce site has any running offer with mobikwik or not.
Sometimes from e-commerce websites, we are trying to add things just to make up the minimum order size (say Rs 1500), so we can get the offer for 10% cashback etc and unnecessarily buy stuff or we donot get any cashback because we ordered for only Rs 850 and credit card offer was applicable for Rs 1000 minimum transaction.
Here, these payment wallets like mobikwik come handy even if you have a great credit card. The minimum amount is normally less for wallet payments as compared to credit card offers. As an example, till last month Mobikwik was offering cashback of Rs 50-Rs 500 on doing a Netmeds transaction of Rs 750.
There are some offers running on recharges or bill payments if we apply those codes, direct wallet cashback is received as well.
My Take on this
I have used Mobikwik since last 5 years and I have used this app for making my bill payments, fuel payments, grocery stores like More, Big Bazaar, Reliance smart etc. and saved/earned money by:
Mobikwik Supercash: On each transaction, I saved 5% or more on each transaction by redeeming Mobikwik's supercash which has translated to good amount of savings for me.
Mobikwik Cashback: As mentioned above, sometimes there is no credit card offer or minimum order size but I get cashback / discount using mobikwik.
Loading Wallet: Mobikwik is only one of the wallets where we can load wallet without any additional charges compared to phonepe / paytm who charge 1-2.5% for loading wallet using credit card.
Here, we can load Rs 2500 in mobikwik wallet without any fee and by loading through my American express credit card, I get additional credit card reward points as well helping me meet my spend targets to get annual fee reversal as well.
I have seen people get confused with supercash and leave it or because not many small retail stores have this app QR code, people leave this app. I would suggest to try and give some time to test & learn the app.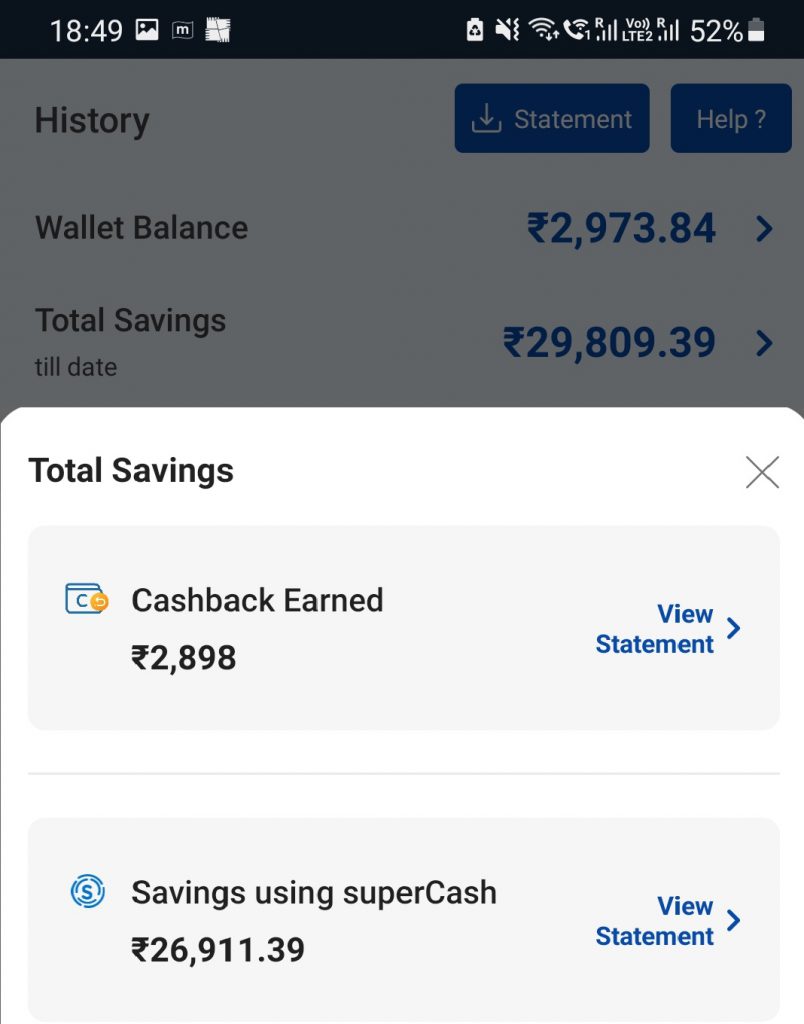 You can see that I have done savings of approx. Rs 30K as show in App. But I think I saved more than this because I see some transactions are not reflected in this number so you can see how much you can also benefit if you are using this one in a correct manner.
Incase you like the article and want to try the Mobikwik app, please use my referral link to support me:
You will also get Rs 25 Cashback if go through referral link.
https://sak38.app.goo.gl/mttfZjeN1YdHVMB28
https://sak38.app.goo.gl/ad5AbXZmhCyQsm9t8
https://sak38.app.goo.gl/f1xthhGpz3YWeJe9A
I would strongly suggest to study this app thoroughly and if you have any queries or issues with referral link, ask me through comments or directly contact me.
Keep reading and please keep sharing… More Bachat on the way!!!