HDFC Tata Neu Infinity Credit Card Review
August 15, 2023
HDFC Tata Neu Infinity Credit card is a co-branded credit card launched by HDFC bank in partnership with Tata Group (Tata Neu app)
There are two variants – Tata Neu Infinity and Tata Neu Plus and as these are co-branded cards, both these cards give good reward rates on spending on Tata brands and both are available in Visa and Rupay variants.

Tata Neu Infinity is the higher variant of the 2 Tata Neu cards
Let's go into more details.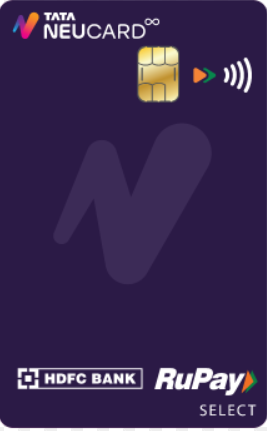 Fee and Charges
| | |
| --- | --- |
| Joining Fee | Rs 1499 + GST |
| Welcome benefit | 1499 Neu coins (equal to Rs 1499) |
| Annual Fee | Rs 1499+GST |
| Fee waiver | Spend Rs 3 Lac in anniversary year for fee waiver |
The fee of 1499 is there but you can get the Neu cards as FYF or LTF by use my referral code TARU238 while applying on Tata Neu App or by directly going to – https://www.tatadigital.com/finance/creditcard/product-detail?referralCode=TARU238&utm_content=TARU238
Rewards Rate
The rewards are offered in the form of Neu coins which is the loyalty reward points usable on Tata Neu app.
Value of 1 Neu coin = Rs 1
Expiry of 1 Neu coin = 1 year
Since its a Tata co-branded card, the reward rate on Tata products would naturally be higher than at other brands.
| | |
| --- | --- |
| Category | Earning rate |
| Tata brands (non EMI) offline | 5% |
| Tata brands (non EMI) on Tata Neu app* | 10% (5%+5%) |
| Non Tata brands & merchant EMIs (any brand) | 1.5% |
| UPI Spends on Rupay Card | 1.5% ** |
*Tata Neu offers 5% Neu coins on all transactions done through Tata Neu App, including utility bill payments
** Neu coins earned through UPI payments are capped at 500 Neu coins per calendar month
Additional Cappings
Grocery Spends – Capped at 2,000 NeuCoins/month
Insurance spends – Capped at 2000 NeuCoins/day
Neu Coins will be calculated and posted on nearest round integer, for example Rs 220 transaction will be
calculated as (220*1.5% = 3.3 NeuCoins = 3 NeuCoins (round to nearest integer)

Neu Coins will not be accrued for the following spends/transactions on the card
o Fuel Spends
o Wallet loads / Gift or Prepaid Card load/ Voucher purchase
o Smart EMI / Dial an EMI transaction
o Rental and Government related transactions

Brands covered
– Tata 1MG
– Bigbasket
– Croma
– Air Asia
– Tata CliQ
– IHCL (TAJ group of Hotels)
– Westside
– Qmin
– Tata Play
– Cult
– Titan
– Tanishq

Lounge Benefit
Domestic Lounge – 2 domestic lounge/quarter on Visa/Rupay network (For list of lounges, please click here
International Lounge – 1 international lounge/quarter
For Visa card holders, you get Priority Pass
For Rupay card holders, you get use your Rupay card at the RuPay Lounges (Transaction fee of $3.25 will be reversed)
Eligibility Criteria
For Salaried Indian national
Age: Min 21 years & Max 60 Years
Net Monthly Income > ₹1Lac
For Self Employed Indian national
Age: Min 21 years & Max 65 Years
ITR > Rs 12 Lakhs per annum
Rewards Redemption
The card statement will show the Neucoins earned per transaction. And the earned neu coins are transferred within 7 days to your linked Tata Neu account. You can redeem these coins through the Neu app or through brand websites or physical store.
As mentioned above, the value of 1 Neu coin = Rs 1
The expiry of neu coin is 365 days from earning date, however there are promotional Neu coins also given sometimes which may have shorter expiry, so prefer to earn and burn quickly
Application Process
The Application process is pretty simple. If you already have Tata Neu app (if not please install for the additional 5% cashback on Tata brands),
You can go to Credit section on top right corner on your app.
The app will ask for your PAN Number and come up with the pre-selected card offer basis your existing HDFC or Tata neu spending relationship
Select the card which is LTF or FYF or decide basis the eligibility given.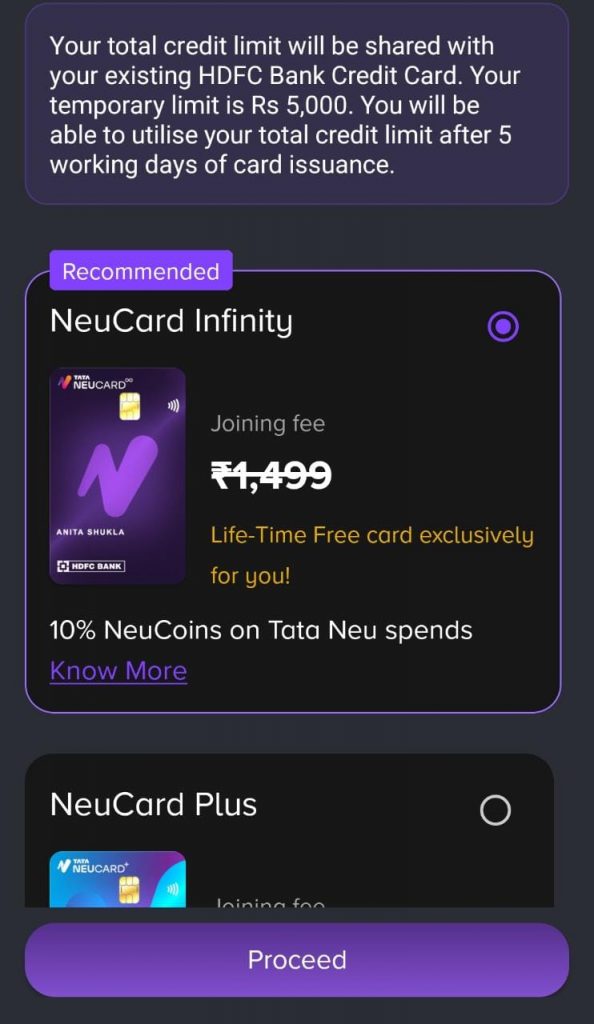 For applying, enter your details (You may enter my referral code TARU238 under referral code section)
Submit the application
If you already have an HDFC Credit card,. For the initial few days, you will be given the Rs 5000 credit limit. After that, then the existing card limit will be shared between your Neu card and the existing credit card.
My Usage experience
Regarding the Tata Neu Infinity card, I have been using this card on UPI since last 3-4 months and I have loved using my Neu card on Paytm /phonepe apps to nearby vendors. I have hardly used on POS machines for swiping. Also, have used this card for paying on tata brands as well as getting the 5% cashback on utility bills.
The reward points are regularly credited to my Tata Neu app soon after the statement is generated.
My Final words
The ease of application, the high reward rate on Tata brands and UPI rewards make it compelling card to have in your wallet.
Whether you are a beginner or an expert, the Tata Neu cards work for you.
– If you are a beginner, then this card works on both POS swipe machines as well as UPI (Rupay variant).
– If you are an expert (high spender) with multiple credit cards, then this card also serves your purpose for getting cashback on your UPI / Tata Neu spends.

I personally think that using this card on UPI is the best thing for you since you get the 1.5% cashback on UPI payments which you normally wouldnot have got.
I will also suggest to take more than 1 Tata Neu cards in the family. For UPI QR scans purpose, I got this card under my family members names as well so they can also get the UPI Cashback since they can't use my card on their phone app, since its linked to your mobile number.
If you are planning to apply for this card, please use my referral code – TARU238 to apply.
If you liked this post, then please do share and comment.
Keep reading and please keep sharing…. More Bachat on the way!!!!