Amex India Feb 2023 Spends Based Offers
February 17, 2023
American Express India has been on a roll since the ban on new card applications was lifted and bringing new offers. This time Amex has come out with spend based offers.
As with all offers from American Express, you need to enroll for this offer as well.
These offers may be different ones for each since these are targetted offers.
Offer Details
I have got the below targetted offer

Offer reward rate
Get Rs 2000 Amazon / Flipkart voucher on Spends of Rs 50000
Normal Points
As normal, 1 MR Points/ Rs 50 spent
Reward Rate
Additional 4%
Double Dip Possible
Yes
Minimum Spends
Rs 50,000
Spends category
All spends
Voucher receipt
By 15th August'2023
How to avail
Enrollment required (to be recd on mail for respective card)
Confirmation
Confirmation Email will be received
Spends period
15th Feb 2023 to 15th April 2023
Eligible Customers
Anyone receiving notification from Amex via email, sms or App push notification
For detailed T&Cs of this offer, click here
The above offer I got but there are mutliple combinations of offers that people have got. Depending upon the offer email received from Amex, you are eligible for the same once you enroll.
Spend Rs 1 Lac to get Rs 4000 Amazon/Flipkart/Taj vouchers
Spend Rs 2 Lacs to get Rs 6000 Amazon/Flipkart/Taj Vouchers
Spend Rs 4 Lacs to get Rs 12000 Amazon/Flipkart/Taj Vouchers
How to Enroll for this offer
You need to click on the 'Enroll Now' button received in the communication from Amex.
Enter your Card Details and submit the same.
You will receive a message saying – Thank you for Opting in for the Spend offer

Also, an email is received confirming the same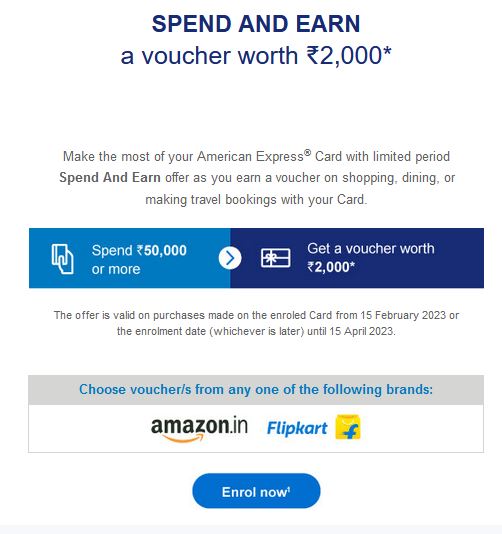 My Take on this offer
This is another good offer from Amex. For some people its too high and it would be better for you to skip this but if you have received a spend threshold which you can achieve without overspending then this offer could work for you. My suggestion would be to try to use double dip with the ongoing Amex Insurance 2023 offer. That will help you double your benefit.
Since this offer is for 2 months spends, you may be able to triple your benefits considering you must be targetting monthly spends target of Amex MRCC and Amex Gold.
As I have mentioned in my earlier posts, Amex India has few great cards with pretty high reward rates if used correctly and this is one of those examples.

If you want to apply for Amex India cards to avail these kind of rewards but are worried by the high annual fees, then you can use my referral link for MRCC to get first year free and reduced fee

There are multiple benefits for you to apply through referral link compared to direct application and you can use the same referral link to apply for other variants as well to avail the benefits.
If you liked this post, then please do share and comment.
Keep reading and please keep sharing…. More Bachat on the way!!!!