Indian Oil Xtra Rewards Program
August 22, 2022
We all are facing high fuel prices and trying to find ways to save money on fuel. One option I already have mentioned is usage of specific co-branded fuel credit cards which give you reward points.
In this post, I will discuss another method on how you can save money on your fuel spends and this works in addition to your credit card points and has cumulative benefit. Let's go in further details below.
What is IOC Xtra Rewards Program
Indian Oil Xtra Rewards Program is a loyalty program to reward repeat IOCL customers. These customers can be filling their petrol or diesel tanks through card, wallet or cash. Here you will accumulate IOCL Xtra reward points on your fuel spends which can be redeemed later.
Overview of Point Structure
You need to be enrolled and your mobile number is taken as your membership number
1 Xtra reward point is earned per Rs 75 spent
1 Xtra Reward Point = Rs 0.30
Net Reward Rate – 0.4% (Rs 0.4 redemption at Rs 100 spent)
Minimum Redemption points – 100 points.
How to Join IOC Xtra Rewards Points
The best and easiest method to join the IOC Xtrarewards Program is through Paytm. Majority people have Paytm for wallet or UPI and so it will be easy for you to enroll through below steps.
Step 1: Type 'IOCL' in the search box in Paytm app and click 'IOCL XtraRewards' from 'Services' option as shown in below screenshot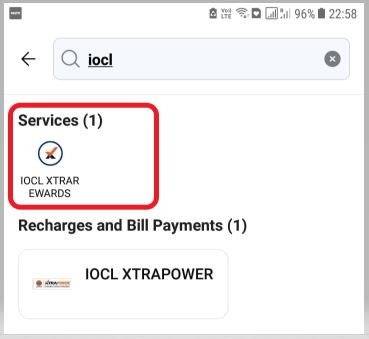 Step 2: Automatically your name and other details are entered automatically.
Step 2: Automatically your name and other details are entered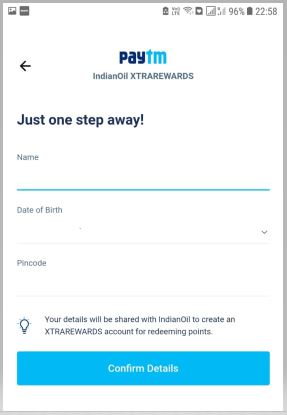 After checking the entered details, click 'Confirm Details'
Step 3: Click Enroll Button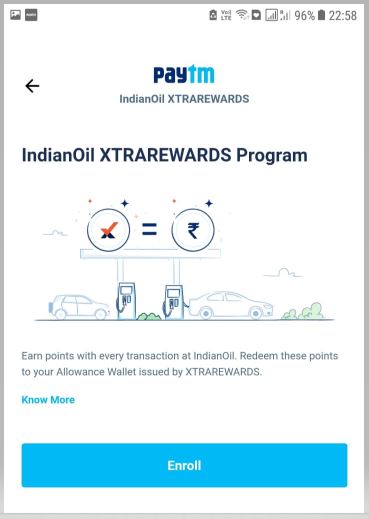 There are other methods to join the program as well but I preferred the above one.
If you don't use Paytm then you can use either of the below as well:
1. Visit IOC fuel station and ask to be enrolled and you can be enrolled
2. Apply through HDFC Indian Oil Credit Card and you get automatically IndianOil XTRAREWARDS Program (IXRP) membership.
Accrual and Redemption of Points
Using Paytm:
Accrual – When you pay at the IOCL fuel station using Paytm through QR code, you automatically receive points. (Pls note the Paytm number and the registered number for XtraRewards should be same).
Redemption – When you press redeem points, the points are transferred to Paytm fuel wallet as regular cash but can be used for fuel transactions only. You need to just scan QR at IOC pump and do normal payment through paytm wallet to consume this locked cash.
Other methods:
Accrual: If you are not using paytm for payment, then you need to quote your registered mobile number at the time of billing payment and after the payment, you receive the SMS confirming Xtrarewards accrual.
Redemption: Similarly, you can quote your register number to redeem your points. OTP is received to share with attendant and points are adjusted against the total bill and balance amount you can pay through cash, credit card or wallet.
My take on this
This is a good loyalty program and you earn 0.4% reward rates. This reward rate may seem trivial however, lot of entry level credit cards have this or even lower reward rates but there is very limited effort to be made. And if you are using only paytm for fuel payment, then why leave free money.
If you see I have accumulated 3991 points valued at Rs 1197.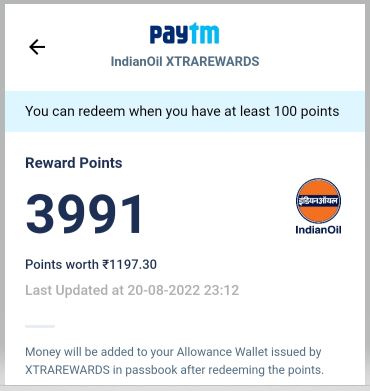 Credit Card Rewards Versus Xtrarewards
Now, someone may say what is the usage of this program if you are earning credit card rewards for fuel points.
The answer is that you can earn both. These are separate programs and you need to mention your mobile number at the time of billing for Xtrarewards and swipe your credit card for payment to earn credit card reward points.
Now, what are you thinking, please proceed to enroll yourself and increase your Bachat.
Keep reading and please keep sharing… More Bachat on the way!!!