Axis Bank Grab Deals Program
September 15, 2022
Axis Bank has been lately trying to up its game and comes out with great offers and rewards for it's customers and Grab Deals Program is one of them. If you are an Axis Debit or credit card holder, this program will help you to maximize your savings on your regular shopping.
In this post, I will discuss on shopping on Grab Deals partners and discount on gift cards / e-vouchers in this post.
What is Axis Bank Grab Deals Program
Axis Bank Grab deals program is sort of a loyalty program exclusive to Axis Bank users. They need to shop on listed partner websites after going through Axis Bank's Grab deals portal. This is similar to HDFC Smartbuy program which is exclusive to HDFC Bank customers.
The rules of the game are same as I mentioned earlier in my posts. The shopping cart should be empty before going through the Grab Deals portal to that website. Next, you can do your regular shopping with your Axis Bank card.
Besides shopping on partner websites, you can buy gift vouchers through this portal which are available at discount.
How to Use Grab Deals
You can visit Grab Deals link or visit through Axis Bank portal home page.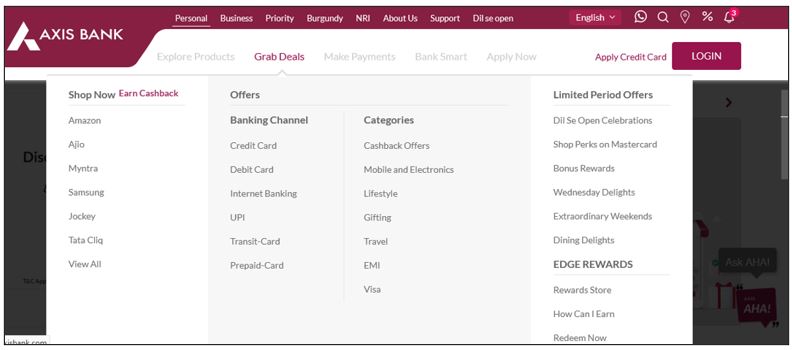 Multiple brands website start showing up and you can decide on which brand you want to do shopping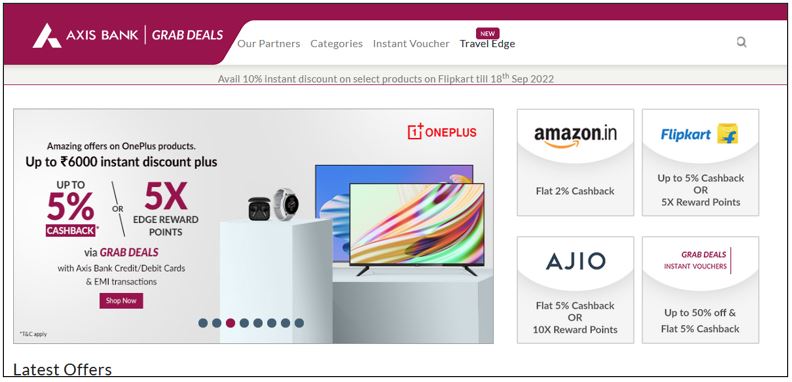 Assuming you decide to buy from Flipkart, click on Flipkart, below window opens and it will ask you to select one of the 2 options – Cashback or reward points. (Personally, I select reward points option.)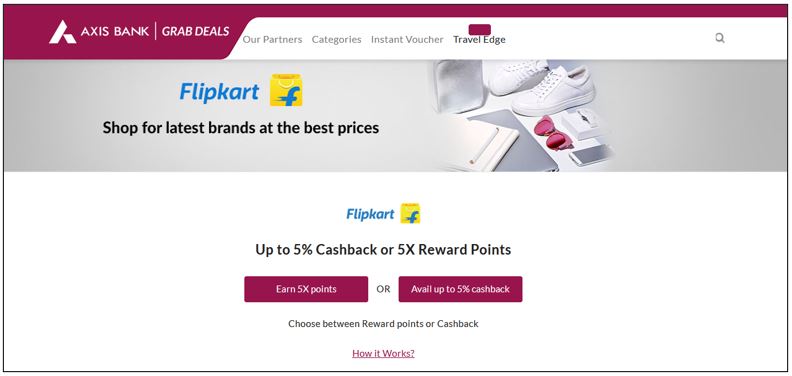 Selecting either of the cashback or points option, below screen will open explaining the process and ask you to enter your Axis card details and registered phone number with Axis bank.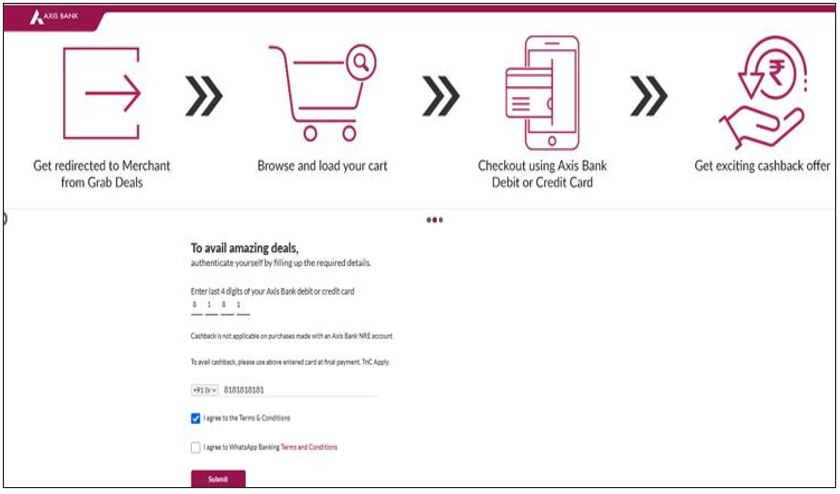 After filling these details and click submit. It redirects you to the website page and you need to pay with the same Axis bank card which you initially entered.
Cashback or points accrual will happen within 90-120 days depending on the option you selected.
Gift Vouchers through Grab Deals
Another interesting option on Axis bank grab deals is e-Gift vouchers. These gift cards are something like cash voucher but this cash can only be used for that specific brand. Hence these are offered at some discount.
How to buy Gift Vouchers
The navigation will remain mainly same as shown in pictures earlier and you need to select the brand voucher you want to buy.
Taking big basket as an example, we are getting 4.5% instant discount and an ongoing promotion of 5% cashback (total 9.5% discount).
I will click big basket voucher and enter the amount for which I want to buy the coupon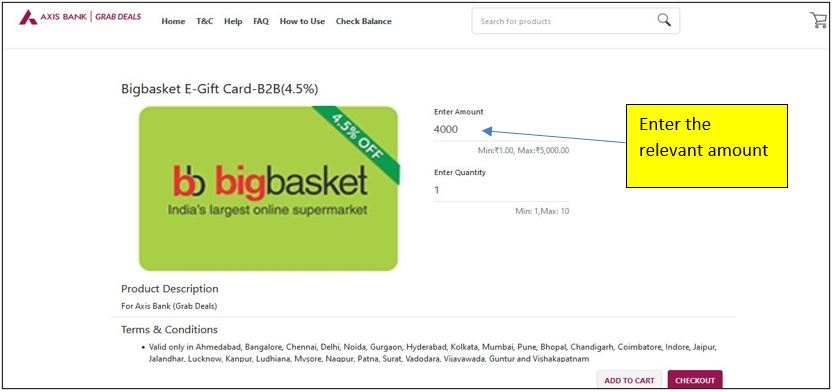 Now assuming Rs. 4000 is the amount, you can see that I am getting Rs. 180 discount. Enter your details and place the order with the your Axis Bank Debit/Credit card.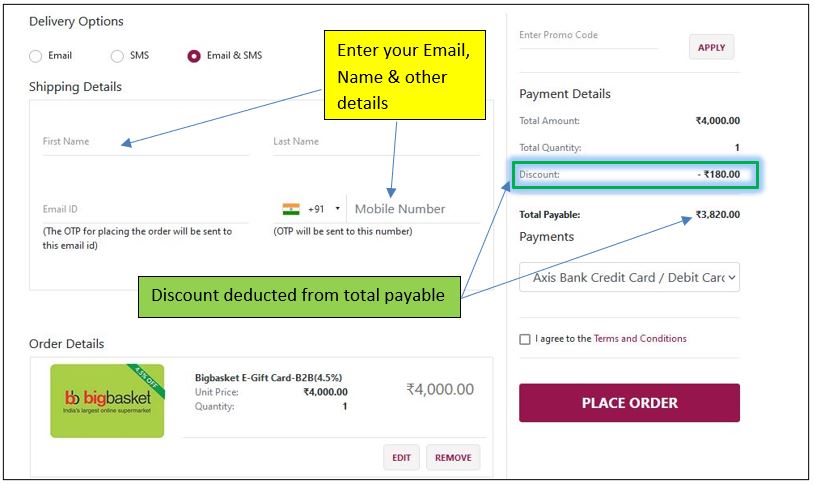 Now you can add your Bigbasket e-voucher to your Bigbasket wallet and do your shopping.
What to select – Axis rewards or Cashback ?
You may thinking that Axis is offering cashback option and also 5x rewards option and which one to select.
So, to answer this question, I will say it depends upon 2 factors:
1. Which card are you using
Debit Card – If you are using a debit card, then 5X reward rates are quite low and I would suggest to go for the cashback option.
Credit Cards – This will depend upon which Axis credit card you are using.
Assuming your card is giving more than 1.5% reward rate the 5X reward rate may be translate to 7.5% reward value compared to 5% cashback
You may be holding a card where reward rate is lower than 1% and 5X rewards would be lower than 5% cashback, so going for cashback will be better.
2. Your Reward Preference
Cashback will be directly usable and added to your statement credit while Rewards would be added in same period but typically redeemed later since you are accruing the same for redeeming later. Some people prefer rewards since they want to redeem for airmiles, goods or vouchers etc.
Bachatxpert Preference
Considering that I am using Axis Bank Privilege credit card where I redeem my rewards at 2%, my preference is to go for the rewards accrual since a 5X reward rate will mean 10% redemption value for me.
So, similarly if you are using higher variant cards like Magnus, Reserve etc., I would suggest to prefer rewards over cashback.
My take on this program
I am already using Axis bank Privilege credit card and this Grab deals helps me save quite a good amount of money. I do use some other affiliate programs but the reward rate sometimes is better here. Second, the e-vouchers available are through Woohoo and some brands like Bigbasket may not be available on the other websites.
Additionally, they are running some special promotions on a regular basis and on one promotion, I had got 20X rewards translating to 40% savings on one shopping.
So, if you are an Axis bank Debit or credit card holder, I would definitely recommend to use the Grab Deal feature to maximize your bachat and add some cashback/rewards to your pocket.
Other questions you may have
Which Axis cards are eligible for Grab Deals ?
Majorly I see that the cards where Edge rewards points are given and are non co-branded cards, those are eligible for Grab Deals. So, Axis flipkart card (direct cashback), Axis Indian Oil / Axis Vistara etc. (Co-branded), these cards are not eligible.
You can visit this link https://grabdeals.axisbank.com/howitworks (At the bottom, the list of all eligible Axis Debit and credit cards is mentioned

What is the maximum cashback that I can get ?
The maximum cashback that the User can get by transacting via Grab Deals platform is Rs. 1000/- per account/credit card per calendar month.
How much time does it take for cashback to be posted ?
The cashback for Axis Bank Grab Deals is typically credited to User's original mode of payment within 90 to 120 days from the date of transaction.

Are rewards same for all the products on brand website?
Depending upon product category, the reward rates may differ. As an example, on Flipkart for fashion category, you get 4x/flat Rs 50 cashback versus grocery where 5x/5% cashback is available.
These details are available against each brand in a section marked offer details and I will suggest that you check that before any transaction.
Anybody having non Axis Card can participate?
No, only Axis Bank Card (Debit/Credit) can participate.
The additional cashback on E-vouchers is always available ?
No, the additional cashback on E-vouchers is normally a limited period offer but Axis does run these regularly. Instant cashback on the voucher value is always available but discount % may change as per Axis decision.
If you have any other questions, you can ask your question to me below. If you liked this article, please share with your network.
Keep reading and please keep sharing…More Bachat on the way!!!