Axis Bank Privilege Credit Card Review
September 20, 2022
Axis Bank Privilege Credit Card is part of Axis mid segment cards but if used smartly it can give you very high rewards for your spends. I am having this card since 2019 and I have loved the benefits offered by this card to increase my Bachat. The card offers base 1% reward rate but there are ways to get very high reward benefits. The post discusses the features of this card and ways to maximize rewards from this card.
Overview of the card
Axis Bank Privilege credit card is an entry level credit card with the below charges:
Joining Fee – Rs 1500* + GST
Renewal Fee – Rs 1500+GST
Renewal fee reversed if annual spends are

greater than Rs 2.5 Lacs

in previous anniversary year
The card is First year free (FYF) for the Priority customers of Axis Bank
Currently Axis running a limited period offer of First year free and this is probably the right time to apply to this great card.


Rewards
Earning Rate – 10 Edge reward points on Rs 200 spend

1-2% reward rate since 1 Edge reward point is Rs 0.20 but can be increased to Rs 0.40)

Activation benefit

12500 Edge reward points for full fee payment (Rs 5000 benefits)
6250 Edge reward points for Priority* customers (Rs 2500 benefits)

Renewal benefit – 3000 Edge reward points if full fee paid
*Even if you are Priority customer, I would suggest to pay the full joining fee (Rs 1500+GST) like I did myself. This will help you with atleast Rs 800 benefit.
Lounge benefit

8 complimentary lounge visits per year (2 per quarter) – List of lounges here
8 complimentary lounge visits per year (2 per quarter) – List of lounges here

How to Increase Reward rate
Normally, 1 Edge reward = Rs 0.20 but in Privilege there are some special privileges which can mean that you can redeem these reward points for Rs 0.4 which is basically double the normal point value.
This also means that you can combine with other Axis cards and double your reward rate for those cards.
1. Multi-brand voucher
Axis Bank has a

multi-brand voucher

which is exclusive for Privilege customers where you can redeem the points at double the value (Rs 0.4) on

Edge reward portal

These vouchers can be redeemed for 6250 Edge points (Rs. 2500 value) or 12500 Edge points (Rs. 5000 value)
The accumulated points can be redeemed for e-vouchers of multiple brands which are part of this voucher.
BRANDS AVAILABLE in Multi-Brand voucher:
Online – Shoppers Stop | Myntra | Prestige
OTT – Zee5 | Sony Liv
Dining – Pizza Hut | Costa Coffee
Fashion – Louis Philippe | Vero Moda | The Raymond Shop | W for Woman | United Colors of Benetton | Levi's | Woodland | Puma | Lifestyle | Bata | Hidesign | Hush Puppies | Aldo
Beauty & Health Care – The Body Shop | Kama Ayurveda | Apollo Pharmacy
2. Axis Programs
Another method to increase reward rate is using Axis Reward multiplier programs / loyalty programs
Grab Deals – You can visit Grab Deals link or visit through Axis Bank portal home page and enter your details. Then visit the brand websites (like Amazon etc) and shop as usual with Axis bank card and get bonus reward points.
For complete details and procedure, you may visit my other post – Axis Bank Grab Deals Program
Axis Bank Gyftr – You can visit Axis Bank's Gyftr page and buy instant vouchers using your Axis credit card at a discount + 5x/10x reward points. This means you can get upto 20% reward points on redemption with Axis Privilege cards.

These vouchers can be used either online or offline.
These have usually expiry more than 6 months giving enough time to redeem.
Please do note the T&Cs whether its valid online or offline before buying.

My take on this
I have been using this card since 2019 and I have found this as a great tool for increasing my bachat on my spends. I regularly redeem the points for multi-brand voucher and then redeem for instant vouchers of Bata, Myntra, Shoppers Stop etc and do my regular shopping.
Second, for a lot of my offline spends I use Axis Bank's Gyftr and Grab Deals options to buy discounted vouchers for my offline spends and do saving of 5-15% across multiple brands by discount and additionally get 5X/10X rewards which I redeem back at double the value to get effective savings greater than 20% on my spends.
Regarding my savings you can see below, I redeemed approximately 6 multi-brand vouchers in 3months amounting to Rs 15000.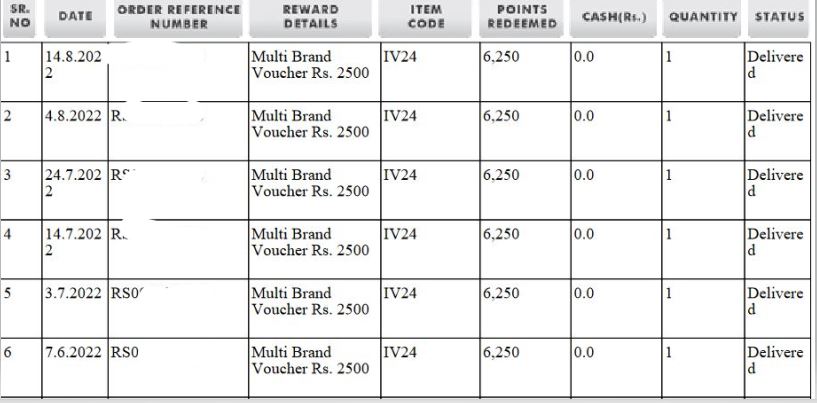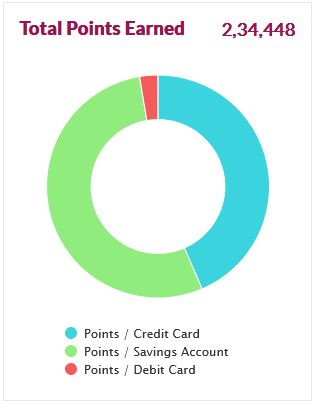 I have earned around 2.3 Lac points through all Axis cards and majorly redeemed at Rs 0.4 through multi brand vouchers which amounts to approximate savings of Rs 90K
If you use this card effectively, you can see that this card will give you rewards which are at par with super premium cards and if you already carry any Axis Super premium card or any other Axis card, then combining with Privilege card, it will be double bonanza for your shopping.

If you liked this post, then please do share and comment.
Keep reading and please keep sharing…More Bachat on the way!!!