Citibank Indian Oil Credit Card Review
June 19, 2022
If you are looking to save some money on your increasing fuel expenses, you should consider using Citibank Indian Oil Credit card to help you get some free fuel. This card gives you reward points on your fuel & other daily spends at Indian oil petrol pumps and you can redeem these points for free fuel. Isn't it great?
Why I use Credit Cards for Fuel Spends
Till May'2022, I never used any of my credit cards on my fuel spends considering no reward points receipt on the transactions.
I was using Paytm since wallet load points + 0.75% cashback + IOCL Loyalty reward points were received. However, with 0.75% cashback removed & nothing being received on wallet loads, I decided to find an alternative to save on my fuel spends. And I found out Co-Branded fuel cards can give rewards on my fuel spends and help with free fuel.
And then I explored the available cards available in the market and then decided to go ahead with Citibank Indian Oil Credit card and got this new credit card. Now, all our family vehicles fuel is being filled through this card.
CitiBank IOC Card Application Process:
I applied the card through this link – Apply to Citibank Indian Oil Credit card
The required details were entered & no uploading of docs was required. SMS was received with application number and Citibank person came and collected the documents and card was approved within 7 days from application.
The card came in a normal envelop with the below 'Welcome' page with the necessary documentation. Since its an entry level card, no fancy boxes or packing was done but all that matters is the rewards and savings which I can get out of the corresponding spends on the card.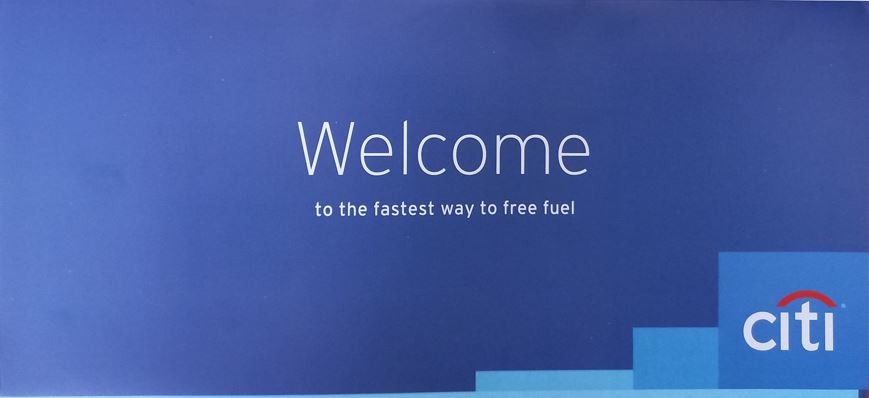 Citibank Indian Oil Credit Card Reward Points:
Citibank gives reward points on this card under the name of 'Turbo points' and redemption value of 1 Turbo points = Rs 1 at IOC pumps
(You can check the list of petrol pumps in your city where you can earn bonus points or redeem your points for fuel by clicking here )
The reward points earned on the card are:
IOC Petrol Pumps: 4 Turbo points / Rs. 150 spent (2.67% reward rate). There is 1% surcharge reversal as well. I checked GST was also reversed.
Groceries & Supermarkets: 2 Turbo points / Rs. 150 spent (1.33% reward rate)
All other Spends: 1 Turbo point / Rs. 150 spent (0.67% reward rate)
Other Benefits:
250 Turbo points on 1st transaction
Rs 1000 annual fee waiver on spending Rs 30000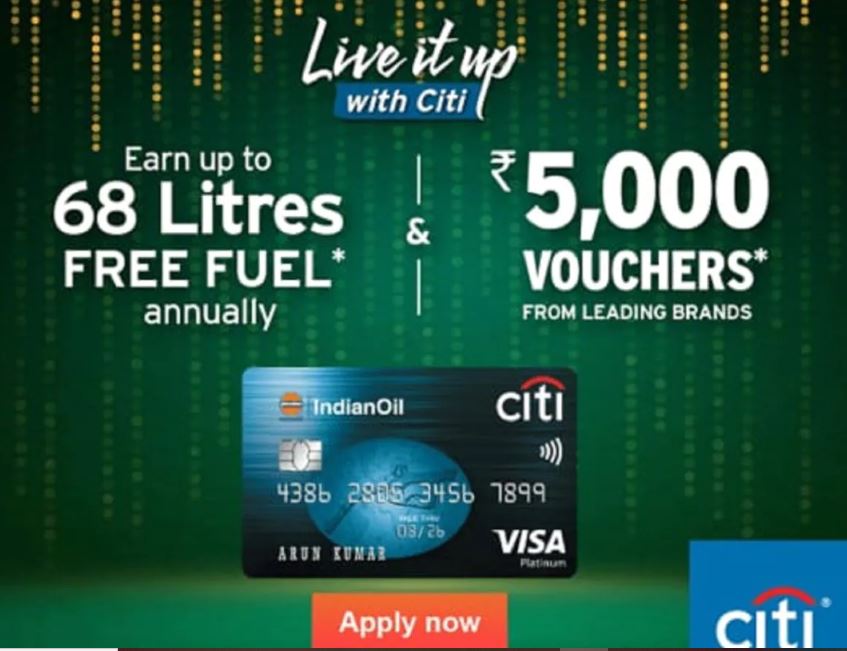 How to Redeem CitiBank Indian Oil Turbo Points
If redeemed at Indian Oil pumps, redemption value of 1 Turbo Point = Rs 1
These points never expire, so you can accumulate slowly and then redeem once you have sufficient points
Follow this simple 3-step process to redeem Turbo Points against transactions done at authorized IndianOil outlets.
1. Pay with your IndianOil Citi Credit card on any Bank's EDC machine, for the value of Turbo points to be redeemed
2. Receive a redemption link via SMS*, valid for 24 hours
3. Confirm the number of points to redeem and click "Redeem Now" to pay with points
If you decide not to redeem, your Turbo Points will continue to accumulate and never expire
My take on this
This addition of IOCL credit card will now help me earn 2.67% reward points on my fuel spends with no capping which I was not getting earlier and the reward rate is quite high and the points don't expire. Also, the joining rewards are very high.
Also, there is now no major complication in using this card. You may have read on few old reviews that Citi EDC machine is required but I checked myself that I am getting the points using any bank's EDC machine. Maybe earlier Citi machine for transaction was required but not now. Ofcourse, it should be on the list of IOCL pumps.
Some may think that Citi is to be acquired by Axis Bank in 2023, then I think automatically you will get Indian Oil Axis Bank Card which offers higher rewards (4%) but no big joining benefits.
The reward rate on Citi card at 2.67% seems pretty good and if you have high fuel spends, I would suggest to definitely go ahead to apply for this card.
What's more, you can use the below link to apply for any Citibank credit card and get additional vouchers worth Rs 5000 on spending Rs 7500.

Keep reading and please keep sharing…More Bachat on the way!!!