IDFC First Bank – Roadside assistance usage experience
March 20, 2023
IDFC First Bank is one of latest entrant to enter credit card scene in India and starting issuing cards less than 1.5 years back. I had written a post on their cards. They have simple reward structure of 3X/6X & 10X on all their cards.

The reward rate is not the best but as a LTF card, their cards make sense for beginners.
One interesting feature from their end has been free roadside assistance given to their IDFC Select and above variants. Cardholder can avail 4 complimentary RSA services in a year and this service is pan India.
They have various services coming under RSA services program and you visit this link to understand all the details.
My Experience
As I mentioned in my earlier post, hopefully no one should avail this service. Unfortunately yesterday, I had an opportunity to use this service.
My father's car broke down yesterday and he was trying to find a solution and calling for private roadside assistance for car pickup to nearby service centre and that service person called Rs 700 will be fee.

I reached there and suggested him to try his IDFC card's roadside assistance which is complimentary feature of his IDFC Select Credit Card.

The first step to avail Road Site Assistance of IDFC First card was to call Global Assure 24×7 Toll-free Number 1800 572 3860 and share details which were last four digits of IDFC card, last four digits of registered mobile number and first name. After this they asked card details and location of breakdown.
Next, a message was received, asking for sharing the details and exact location on GPS.
Subsequently, we were told to wait and informed that TAT is 60-90 mins and driver would call shortly.

There was no call from driver for some time and then as usual in India, we need to dial up and (im)politely ask them for pushing our case. Then the case started moving and received driver's number and immediate call. They had all our details available and mentioned that they were on the way already and will be reaching us in 20 mins since rain had led to traffic jams.

Unfortunately there was heavy rain on this day and I believe I had to give them benefit of doubt.

Now, the vehicle came and they were pretty courteous and the vehicle was loaded and taken to the required service centre for repairs.
And the good part was NO FEE for all this !!!!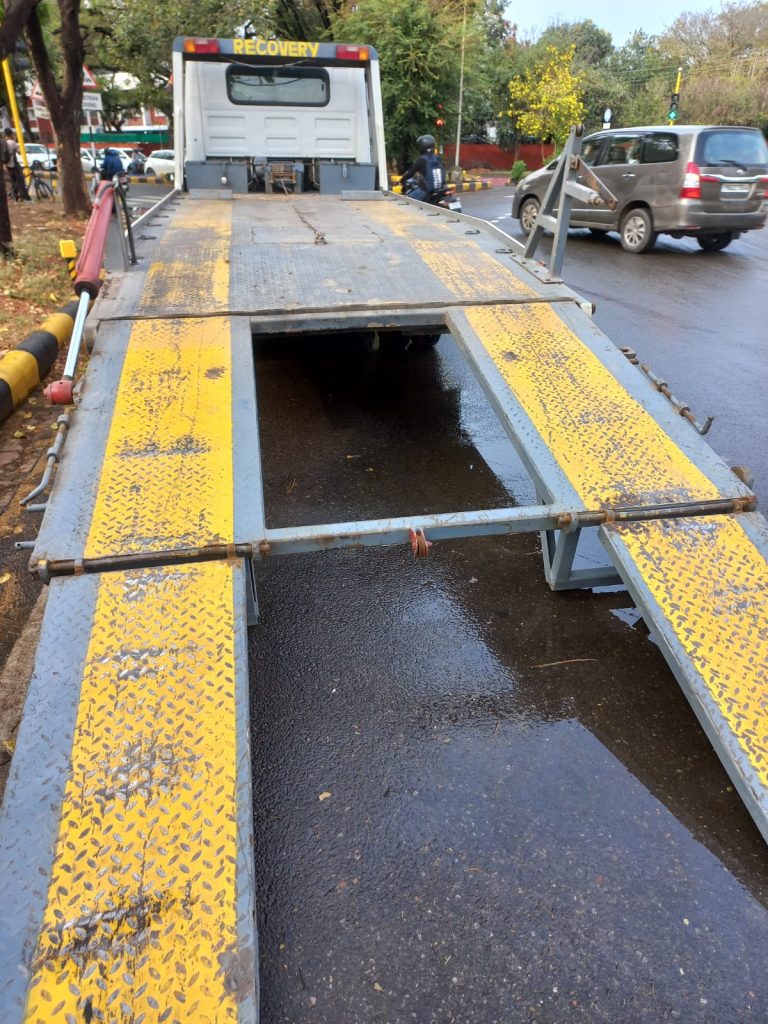 Final Words on the service
This service when received as part of IDFC cards was new for me and I had never thought would be needed. However as bad luck stuck, it was needed and was helpful and also saved Rs 700. Infact, first time parents realised the benefits of card for the first time since this was very tangible for them to see.

The overall experience was good, except that you never want these experiences in your life.

I would say even for this kind of one time service, you can plan to keep the IDFC cards considering that they are Life time free and if you are paying your bills on time, any additional piece of plastic does not hurt.

If you are thinking about taking IDFC cards, you can visit this link for their 4 major cards and apply for an IDFC First card.

If you liked this post, then please do share and comment.
Keep reading and please keep sharing…. More Bachat on the way!!!!