How Gift Cards help you save money
December 11, 2022
You may have heard about Gift cards helping you save some money but how to use these gift cards or e-vouchers and many other queries may be in your mind.
Here, in this post, I will write on how I use gift cards to save some money and earn rewards and do some Bachat. Best savings come from credit cards but these can be used through debit cards as well for increasing your savings.
What is Gift Card
Gift cards are known by many names like gift cards, e-vouchers or e-gift card etc. Basically these are issued by an issuing company which has a tie-up with the associated final brand on which these gift cards can be utilized. These gift cards are basically like cash or currency but this cash can only be used at the specified brand. Also, there may be other Terms and conditions associated with each gift card.
How these Gift cards are sold in India
In India, these gift cards are issued mainly by Gyftr or Woohoo.
On one side, these companies have a tie-up with the brand partners who can be offline (like KFC, Mainland China) or online (Amazon, Big Basket)
On other side, they have tie-ups with major banks to issue (or sell) these gift cards from respective bank websites from where we can purchase these gift cards to utilize at brand partners outlets.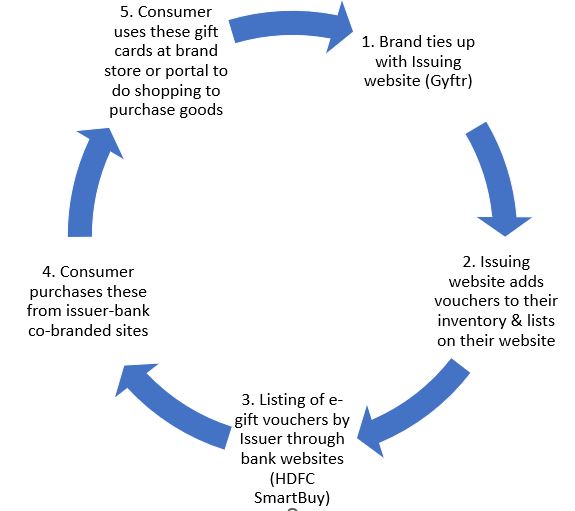 How Gift Cards can be bought
Nearly all major banks have tie-ups with these gift card issuing companies. You will need a card issued from the bank to purchase through their co-branded websites.
As an example, if you are an Axis bank card holder, you can buy instant gift vouchers from their Gyftr website (https://www.gyftr.com/edgerewards) or through their grab deals portal (vouchers issued by Woohoo)
Similarly Issuing company (Gyftr) has many co-branded websites with other banks:
Also, if you don't have relevant bank card, then you can also visit and buy gift vouchers through their own websites.
How to save money using Gift Cards
If you go to any of the above websites, you will see that majority of the gift cards are given at some discount. (Discount will vary brand to brand)
Also, these have an offer of 5X or 10X reward points if you buy through their website using their card. 10X means that you will get 10 times more reward points and in simple terms, if your normal credit card reward rate is 1.5% then your reward rate for this purchase would be a whopping 15% and additionally there will be instant discount on the voucher.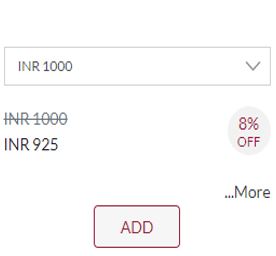 As an example, my Axis Privilege credit card has 2% normal reward rate effectively and if I have to purchase shoes of Rs 1000, I will buy a Rs 1000 gift card paying Rs 925 and earning 10X rewards (20% rewards) on this transaction. This comes out to be Net Rs 765 spent purchasing a Rs 1000 item.
Kindly note these reward rates will vary brand to brand and bank to bank and also will depend upon your card.
Why Brands issue these gift cards at discount
I am not sure but I think below are few reasons:
Once you have a gift card of certain value bought by yourself or gifted by someone, then you will definitely plan to buy from that brand.
Also, if you have Rs 1000 brand voucher, you will tend to buy something which is more than Rs 1000 and pay the balance.
This is like an interest free loan to the brand.
These come with an expiry. This means that there is also a chance that you buy the gift voucher but never use it to buy the goods. It's basically free money for brand.
Credit card companies want you to buy more using their credit card and then donot pay the amount helping them earn interest.
Disadvantages of gift cards
Although there are many benefits associated with discounted gift vouchers, there are few disadvantages:
They are typically single use vouchers. This means that if against a Rs 500 GV, you buy Rs 450 items, then the balance Rs 50 will be wasted.
We tend to overspend. From above example, Rs 50 will be wasted and to avoid that, we will purchase something not necessary for say, Rs 200 and spend additionally Rs 150
As mentioned earlier, these have an expiry date and sometimes your money is locked and lost as well if you don't redeem before expiry.
Other major issue is that we tend to miss out on the terms and conditions of the gift card.

These may be only redeemable online or offline or both.

These may also be redeemable as a coupon code giving discount but meaning that other card coupon codes can't be applied. Few of these are Ola, Makemytrip etc.
My Take on this
I use these gift cards whenever I am buying something offline and try to find best deal from my credit card associated gift vouchers and I have saved thousands of rupees and earned huge reward points. These may have sometimes led me to overspend but not much since I try to keep my spending under control. This is the most important point – Please avoid overspending
Also, these gift cards have helped me meet the spending targets to achieve monthly / annual milestones keeping my credit card free due to fee waivers.
But if you donot hold credit card of a particular bank but a debit card, even then you can avail the gift card benefit but at a smaller scale. So, do check out your relevant bank offer from the list.
Hence, I will suggest to use these gift cards but only to increase savings but not increase spending.
If you liked this post, then please do share and comment.
Keep reading and please keep sharing…. More Bachat on the way!!!!