How to save money on Flights on Makemytrip / Cleartrip
January 28, 2023
The flight prices have gone quite high recently and we need to look for ways to find discounts on flight bookings. We all need to travel whether for personal or business purposes.
We all book flights online for the ease of convenience through OTAs. Makemytrip Group is the biggest OTA for booking flights & hotels in India followed by others like Cleartrip, Easemytrip etc.
What are Online Travel Agencies
All these are classified as Online Travel Agencies (OTA) because they are web based marketplace where you can search and book flights, hotels and other travel related packages from different service providers. They have tie-ups with them and help them fill their inventory.
From customers, they will charge some convenience charge for each booking, say Rs 300-500/ticket depending upon which OTA you use and the number of tickets.
How to save money on bookings
Discount codes linked to credit cards
OTAs will have some tie-ups with banks and credit card companies and offer discounts on making a min spend threshold.
These OTAs continue to run some promotions with payment companies (banks) and give discount if we use some specific bank cards and use a particular code. These bank cards can be debit cards or credit cards.
As an example, I am sharing the flight discount coupons codes for both domestic and international flights that Makemytrip & Cleartrip are currently running on various days of the week with different card companies.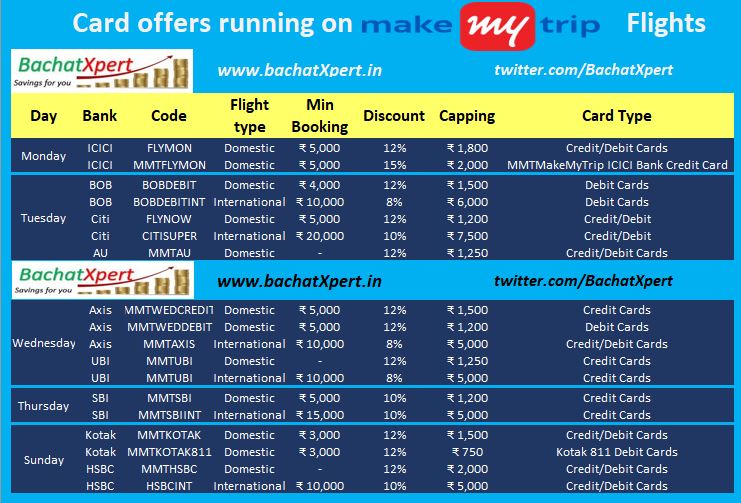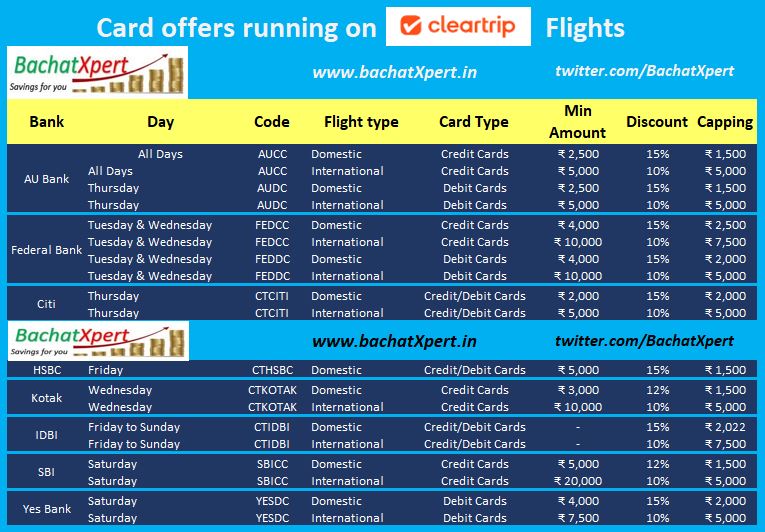 These are typically ongoing and terms and conditions continue to change.
But the basic thing to note is that you should continue to check which bank cards you are having and then try to find the best bargain for yourself.

One more tip would be that when you are travelling round trip or multiple passengers (say a family of 4) are travelling, try to break up the trip into double bookings to match the min booking requirements. This way you can save even more. (You may pay for the seat depending upon your requirement of sitting together but overall, you will save more).
Gift Cards
Gift cards are basically e-gift cards which have a value and can be used on these OTAs for booking hotels/ holidays or flights depending upon which gift card you buy and what the terms and conditions on usage.
The concept of gift cards is explained by me in another post in detail on how you can use these to save money by earning reward points and same is applicable on travel.

Please note that if you are using this this gift card method, then other card discounts are typically not available.
This method is also not preferable since you may get more discount using a card offer mentioned under the first method compared to the 5X/10X reward points received. People with some high end cards may prefer this route.
Second, there is a limit of using this gift cards like Makemytrip has limit of 3 Gift cards and if you are doing a big booking, these gift cards may not be sufficient.
Final comments
Miles and reward collections work for specific airlines and those are premium airlines and those maynot be available in your city or you may prefer budget airlines. These card offers would really help you reduce your costs by 10-15% for domestic and international routes.
You can also use Cashkaro or other affiliate sites to visit these OTA sites and earn additional cashback. Both these are listed as affiliate partners on their site.
Remember these codes continue to change and evaluate your decision before the booking.
This post is to explain the basics that I have followed many times for domestic trips. Hope these tips would help you save some bucks.
If you liked this post, then please do share and comment.
Keep reading and please keep sharing…. More Bachat on the way!!!!