American Express Platinum Travel Credit Card Review
November 5, 2022
American Express Platinum Travel Credit Card is part of the premium category travel cards from Amex India.
And as the name suggests this card rewards you with Travel rewards and this card is particularly great if you want to redeem for Taj vouchers.
Overview of the card
Joining Fee – Rs 3500 + GST
Renewal Fee – Rs 5000+GST (No waiver but you may negotiate)
Regular Reward Rate – 1 point per Rs 50 spent (excludes fuel, insurance & utility bills)
Normal Value of 1 MR point for Plat Travel Card – Rs 0.30
Welcome Benefit – 10000 MR points on 15K spends in 90 days
Lounge Access:

2 Domestic Lounge visits / quarter (Total 8 per year). List here

Priority Pass membership but no complimentary lounge visits
*Amex pays rewards on wallet upload (one of the few cards that still pays rewards on wallet loads)
Bonus Reward Structure
15000 MR points on spend milestone of Rs 1.90 Lac
25000 MR points + 10K Taj stay voucher on spend milestone of Rs 4.0 Lac
Reward Redemption
Normal redemption value of 1 MR point for Platinum Charge card is Rs 0.30 and all the 3 reward slabs – Welcome rewards and 2 milestone bonus rewards can be redeemed for Flipkart vouchers or travel vouchers at the rate of Rs 0.30.
But the value of the card can be increased by redeeming this voucher for Taj vouchers where value of MR point = Rs 0.50
Second method could be transferring these MR points to partner airlines miles / hotel points
Calculations
Scenario 1: Spends reach the Rs 4 Lac Milestone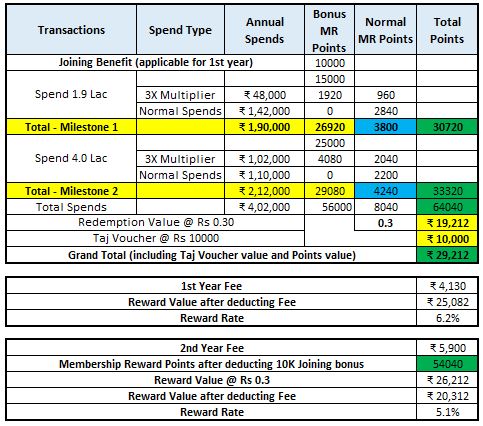 In the first year, you get:10K welcome bonus, 40K milestone reward points and approx 14K reward points (assuming 1.5 Lacs spends on 3X multiplier) with a total of 64K points

2nd year onwards, fee is 5K+GST and welcome bonus is not there.
Scenario 2:
Someone just plans that they will only do spends for 1st Milestones and that's it, then the reward rate drops significantly, particularly in 2nd year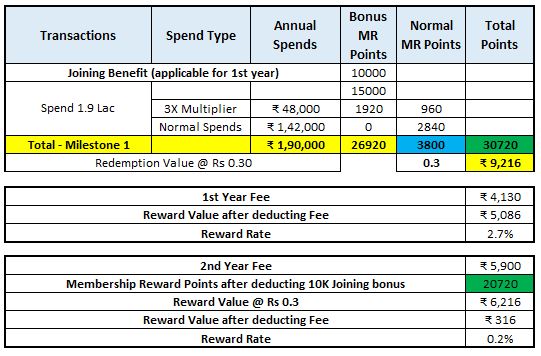 At 1.9 Lac spends first milestone, 15K reward points are received only.
My take on this
This card gives nice return rate and is greater than 5% for second year as well at Rs 0.3 redemption rate. The return increases if redeemed for Taj vouchers etc. (same as Amex MRCC and Amex Gold card where 1 MR value can go for Rs 0.58 for Taj vouchers if redeemed through 24K Gold Collection).
But the problem is that the normal 1 point per Rs 50 spent structure is not great and this card gives maximum value only when you reach the milestone of Rs 4 Lac spends. As I showed above, the 1st milestone of Rs 1.9 Lacs will not give much return due to high annual fee of the card.
Second issue for achieving the 4L milestone is that the relative difficulty of using Amex in stores compared to Visa and Mastercard cards and only saviour is Amex Multiplier (mainly gift cards) or wallet loading spends.
So, if you have high Amex spends and can cross the 4 Lac milestone in a year, then definitely go for this card otherwise I will suggest Amex MRCC as the goto card or you may even go for Amex MRCC + Amex Gold combination.
If you liked this post, then please do share and comment.
If you want to apply to this card (or any other Amex card) for the benefits, please use my referral link to join by clicking here: https://americanexpress.com/en-in/referral/tARUNBxmEu?CPID=999999544
You will get additional 2000 MR bonus points + first year fee waiver by applying through referral link
Keep reading and please keep sharing…. More Bachat on the way!!!!