Earn Intermiles and redeem for flight bookings
June 5, 2022
Intermiles has been one of the major loyalty programs used for flight bookings. You can earn miles here which you can earn miles for different activities like flight bookings, e-commerce shopping, buying e-vouchers etc and then redeeming the miles to take free flights or vouchers and do free shopping.
This was earlier named JetPrivilege and was highly sought-after program to earn miles from Jet flights or other activities and then redeem the points for Jet airways or other partner flights. However, after Jet Airways stopped operations in 2020, the program was rebranded to Intermiles. Even if the redemption values have reduced, its still very much in my Bachat framework considering the versatility of this program. Beyond the travel bookings, there are many other options to earn miles and then redeem across many options which makes it very useful for someone who is not a frequent flyer.
Let's deep dive into the whole program.
How to enroll and earn Intermiles
If you go to the website www.intermiles.com, the below screen shall open.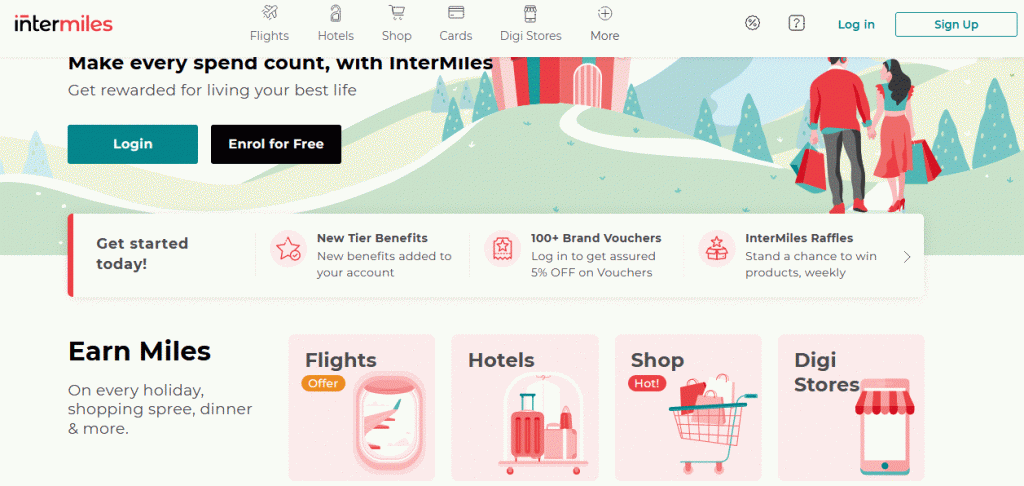 Here you can see that enrolment is free. You can click 'Enrol for free' or sign up on top right corner, enter your details and your account is created.
Once your account is created, you can earn points for all activities by clicking on the same and making the transaction.
The first and the traditional way to earn is by clicking on flights and booking the flight and you will earn the miles.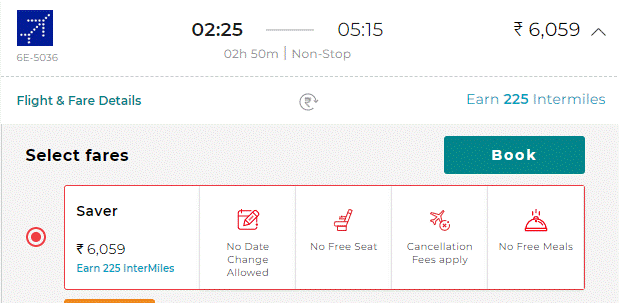 The number of points to be accrued are mentioned before the booking.
Second method shall be hotel bookings and same number of points to be earned are written before we do the booking.
Third shall be by clicking Shop and going to Amazon/ Flipkart / other website through intermiles and then purchasing the goods (Like we do with Payback)
The fourth option is using co-branded credit cards where each spend on the card will give you intermiles (instead of regular reward points of bank). If you are not a frequent flyer but want to earn points for free flights, this is probably the best method to earn free miles.
You can also convert your credit card reward points from bank into intermiles, however I would suggest not to go ahead with this method since the value of original point decreases while converting to intermiles, however if you need some points to finish a booking or some special offer then you can go ahead.
There are other activities like buying vouchers under Digistores, fuel (IOCL pumps only), everyday activities like walking, quizzes, spin-a-wheel, dining out etc on the app where you can earn points.
How to Redeem Intermiles
The reward value shall differ on which activity you want to redeem the points.
We can redeem the points on nearly all activities where we are accruing points.. Below is illustration of 2 major options:
Just as an example, for a Mumbai Bangalore flight, we can earn 170 intermiles for a Rs 4788 flight or instead redeem 12500 intermiles for the same flight.

Please note that the point redemption value can vary as per flight / route as well. As an example, above flight had redemption vaue Rs 0.38 / intermiles but below flight has redemption value of Rs 0.29 / intermile. It's a bit confusing basis their internal route based formula but you must try to find maximum value for the miles.

We can earn on shop on Amazon as well and we can redeem points for an Amazon voucher.

See Different options for buying Amazon vouchers on Intermiles website
You can earn 5 Intermiles / Rs 100 spent on Amazon or you can redeem 2900 miles for a Rs 500 voucher.
Redemption value reduces to Rs 0.17

(If you note, the redemption value increases to 0.4 if you use option 1 and pay 475 + redeem 61 miles).
Tier Levels
On enrolment, we start with Base tier, which can be upgraded to various levels by earning more miles over a 12 month period

As you see, with more miles, we are going to the next tiers and we are getting more benefits.
On moving onto the Red Tier, we get to select options of savings Rs 500 (250 + 250) from 4 options which is discount on digi vouchers, dining vouchers, flight and hotel vouchers
On accruing 15000 points, we reach silver tier & get additional 1000 intermiles & 2 options out of 6 to be selected and If I reach Silver tier, I would take free Amazon Prime vouchers & Rs 500 off on digi vouchers & complimentary seat selection & meal.
Similarly, on reaching Gold and Platinum, additional benefits are unlocked like Bigbasket vouchers, Zomato pro membership, the man company vouchers, cure.fit memberships etc and count & value from previous tiers also increase.
The whole details on the same can be checked on this link: https://www.intermiles.com/rewards-program/tiers-recognition/benefits-privileges
My take on this
The program has lost a lot of sheen once Jet Airways stopped operating. The redemption values also are a bit less, though reaching various tiers give some benefits but if you have legacy JP Miles and are using co-branded credit cards, then you may continue to keep this as your primary loyalty program for flight bookings otherwise switch for better / another programs.
There are few reasons here:
There are alternate flight loyalty programs namely

Club Vistara and with Air India being bought, I expect this program to offer a lot more going ahead.
SpiceJet is also looking to revamp its Spiceclub frequent flyer program with launch of Axis bank co-branded cards and the redemption value of 1 Spiceclub point is also higher at around Rs 0.50

The earning rate on partner websites is also low

If I visit Amazon from Intermiles, I get 5 intermiles/ Rs 100 spent but if I visit Amazon from Payback, I get significantly higher points

Similarly redemption rate is quite low

If I redeem Payback points to buy Amazon or other e-vouchers, the redemption value is INR 0.25 however for intermiles, it reduces to INR 0.17 for the same activity.

Also, for the flight & hotel booking rates are similar however I get cheaper fares from websites like Makemytrip etc by using specific deal coupons and get higher discounts.
If you are using co-branded credit cards, only then you are able to reach cross the base tier and get those benefits, otherwise with low earn, for someone without co-brand cards, its too difficult to each 10K / 15K points, let alone reach the gold and platinum tiers.
But, please note here, the reward rate for cards is higher (& they are also having annual fee) but for going from Intermiles to Amazon for shop etc., the reward rate remains still low.
So, HOW I USE IT ??
The one major reason it's part of my Bachat framework is the below reasons
There are some brands which are only associated with Intermiles (As an example Dominos / Tata Soulfull) is not with Payback but with intermiles).
For my restaurant reservations and payments through Dineout, I get Intermiles (1 mile for Rs 40 spent) for the payment I do which I do not get anywhere as well.
Sometimes, first time shopping on partner brands adds a lot of miles for a single shopping 😊
Also, they have started milesforsurveys where you earn intermiles through surveys, which is also a nice option to earn miles if you have some spare time.
I also get miles for IOCL petrol pump payments, though its miniscule reward of 1 point per Rs 150, however its also an additional earning on fuel which is increasing day by day. Also, the redemption value on fuel is 1 intermile = Rs 0.25 and I intend to accumulate the points and redeem for fuel.
And with these points & everyday activities like spin-a-wheel and quizzes, maybe I will be upgraded to Red / Silver Tier where there are discounts on e-vouchers & dining vouchers, which shall save more money… If I reach these tiers, its good otherwise I am happy with the base tier.
Bottom Line
Some people may differ depending upon their own usage pattern, specifically who are having their own co-branded card but since, I prefer lifetime free cards or annual fee waiver basis annual spends, I do not plan to carry a co-branded intermiles card.
Hence, I think personally for me, this is very good as a secondary level loyalty program for shopping from brands but not as a primary loyalty program unless they increase earn & redemption rates.
Jet Airways restarting operations may change the dynamics for that, we will need to wait and see. I sincerely hope redemption value is increased.
Keep reading. More Bachat on the way !!!!