MilesforSurveys – Earn Intermiles from Surveys
June 12, 2022
Milesforsurvey is new initiative started by Intermiles wherein you receive Miles doing surveys and these are added to your Intermiles account and then you can redeem the same as free flights or e-vouchers as part of the Intermiles Program.
I only heard fraud cases of earning money from surveys until I came across this couple of months back. So if you have some free time, it could be a nice tool to pass your time and earn some miles and then redeem them for money. It is similar to earning real money from surveys with the difference being you can redeem these miles for amazon or flipkart vouchers to redeem on their website.
How to Join Milesforsurveys
Step 1:
– After you have the intermiles account, either you can visit through Intermiles website homepage by clicking the milesforsurveys image or by directly going to www.milesforsurveys.com
– For joining the Milesforsurvey website, the prerequisite is that you must have a valid Intermiles account.
Step 2:
After this, the below homepage will open and you can sign up / register by clicking Join Now on top right corner.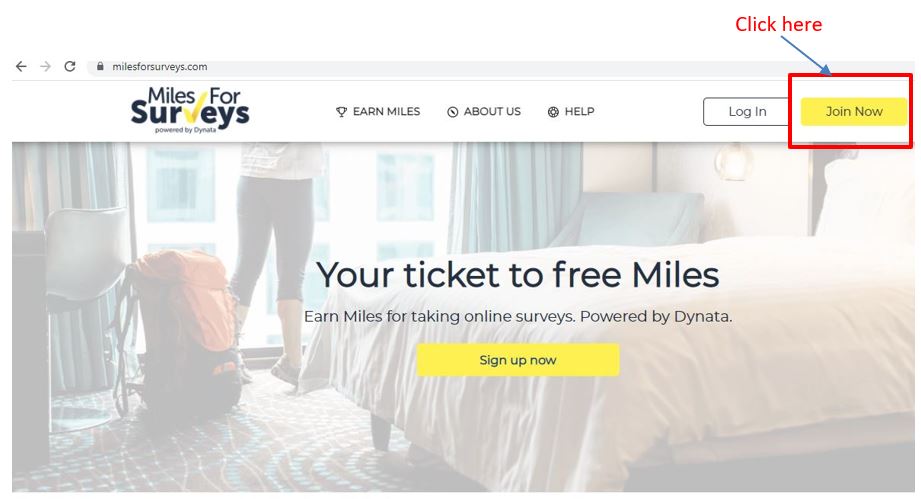 Step 3:
After you have clicked Join Now, you need to enter your details on below form and enter your Intermiles membership No and then proceed with the steps and you have registered yourself on this website.
Step 4:
They will ask for your preferences with some questions and ask to update your profile. Basis your preferences, you will get surveys.
Next Immediate steps after Joining
Once you are registered, you need to immediately finish one training which will give you 125 welcome bonus miles for joining. I have heard if you leave it midway or do it later, you may miss the joining points, so please finish it immediately.
After finishing first survey, you will additionally get 250 Intermiles basis the promotional welcome offer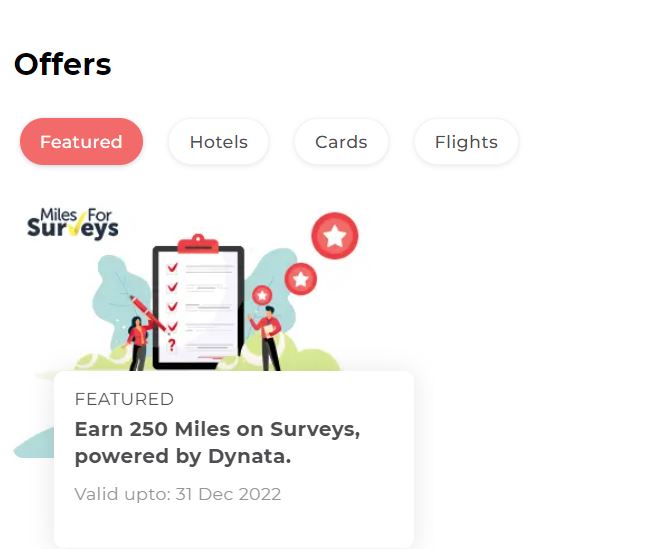 After these bonus miles are accumulated, you can wish to do as many surveys being displayed on the portal as per your time convenience. Once you finish the survey, the points are added to your Intermiles account within 24 hours.
Pros & Cons
Pros
This is one more nice addition to earn points / miles by Intermiles Loyalty Program which gives great amount of choices to earn miles and then redeem those miles.
This means that even if you are not a frequent flyer, you still will be able to earn miles by doing surveys and maybe take a free flight in a year or so.
Regarding privacy concerns, the T&Cs are strict and are powered by Dynata which an international company and don't think there are major concerns on this part.
I think this would be great for someone like a college student or someone who has some free time at home wanting to earn money from surveys.
Cons
The surveys are time consuming and sometimes get boring and for 20 minutes survey, you will get 175 miles or so which is very low.
As mentioned in my earlier review, the redemption point value of 1 Intermile itself is low. I really wish if Intermiles can increase redemption value for their miles.
So, HOW I USE IT ??
For me personally, I occasionally do some surveys on weekends or on my free time and over an year, expect to have sizeable amount of Intermiles to redeem. Lets see how much I can accumulate 😊
Keep reading and please keep sharing.. More Bachat on the way!!!