Payback Points Loyalty Program Review
May 26, 2022
Payback Loyalty rewards program is one of the popular loyalty programs where we earn Payback points which can be redeemed to buy stuff. I have been using the same over the years and this has helped me save thousands every year and I would definitely recommend this.
It was started in India by American Express over 10 years back and it was acquired by Bharatpe in 2021. So far, I have not seen any major changes in service and interface etc. and I hope it remains like that.
How Payback rewards work
Payback helps me to earn Payback Points as rewards for the shopping that I was already planning to do.
I think the next question would be – How does this happen and how does Payback Work?
Payback is basically doing affiliate marketing and has tie-ups with various brands and e-commerce websites and basically gets commissions for the sale after referring the traffic to them from its platform.
After you visit a website through Payback platform and make a purchase, Payback will earn commission and gives part of that as reward points to you and you can redeem these Payback Points to buy e-vouchers (which you can use to buy more stuff online / offline) or a host of various goods and items which are shown on their website under redemption options.
This program works equally well on Payback website or the Payback App, so you can use either of them to get these points.
How to use Payback to earn Payback Points
I will show the various steps to be followed by going through the below:
The method to be followed here is that you need to keep the cart empty of the site where you would want to buy. Keeping Cart Empty is a MUST
(Say you want to buy from Amazon, you may select the items through normal shopping method and add to cart and keep screenshots of what you want to buy and remove them from the cart).
After the cart is empty, you can go to Payback.in website / App and login at the right top corner.
Now, click Earn Points (say online shopping) and select the brand website which you would like to buy stuff from.

This will lead you to list of brands which shows the ecommerce websites where you can earn Payback points and how much points you earn per Rs 100 spent with them.
As an illustration, you had decided to buy stuff from Amazon.in, so go to Amazon logo and click 'Shop'

A window will open which displays terms and conditions, points for each category buy and you need to click Proceed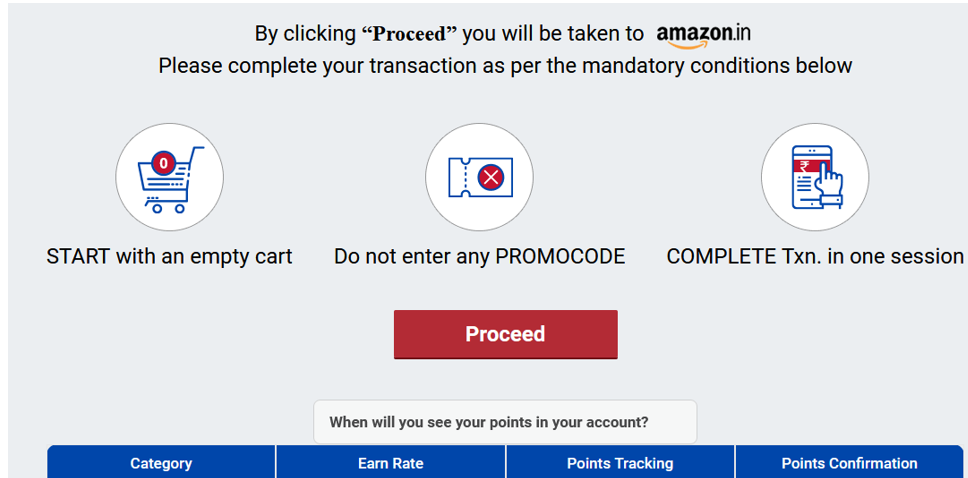 After you click 'Proceed', you will be redirected to brand website and you can do shopping as always:
Search the items
Select and Add to Cart
Make the payment
After fixed time period mentioned in T&Cs, the points are credited to your account and you can redeem the same.
Triple Benefits on a single Shopping
Another good thing to note is that these Payback points are on top of other discounts and offers that Amazon or other websites give. As an example, if Flipkart / Amazon are running promotion of 10% back on Rs 2000 spend using XYZ Credit card which means that if you are do shopping of Rs 2000 through that bank's card after going to this website through Payback, then you will receive below 3 benefits:
Rs 200 Cashback as per Flipkart offer (10% cashback Bank card offer)
Credit card reward points on Rs 2000 spend as per Bank Card's normal reward rate
Payback reward points for going to Flipkart using Payback platform
Isn't this triple benefit great? 😊
How to Redeem Payback Points
Value and Expiry of Points
Normal value of 1 Payback Point is Rs 0.25 or 25 paise. Payback runs some offers time to time where you can redeem for higher value. Typically these offers are run on Diwali or some festival, so I would suggest always redeem during these special offers to maximize points value.
Payback Points validity shall be 3 years which means if you earn any point today, these will expire after 36 months. They send notification before expiry but I would suggest to redeem atleast 33% of points at end of year to avoid losing any points due to expiry.
Steps to Redeem
Click Redeem Points on Top

New window opens showing various options to redeem.
I typically buy e-vouchers and then redeem on the brand's website. In this case, lets assume we want to buy e-vouchers to do some shopping on Myntra and we click Redeem on block showing Myntra.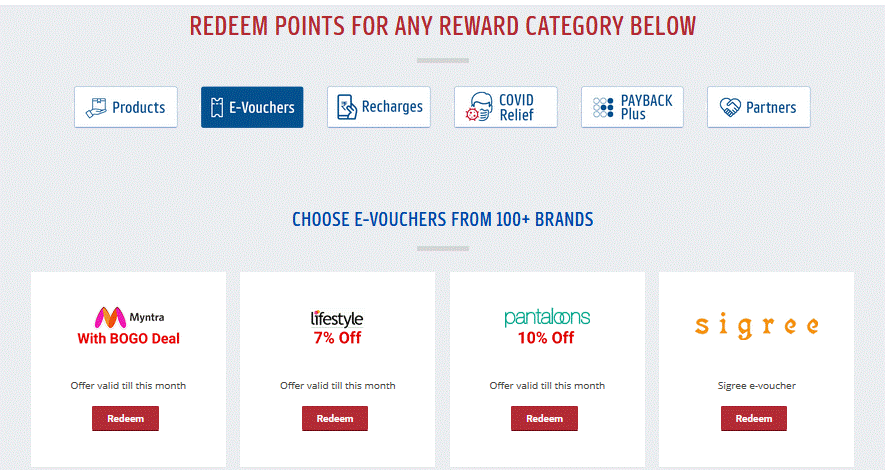 A window opens showing the value of e-voucher and the points redemption options. You can place order after entering your phone no and email id. The voucher would be emailed and SMS sent to mobile no given.
And Bingo!!! you are free to use this e-voucher on the brand.

You could have also bought this voucher at 6% discount – A voucher of Rs 200 by paying Rs 188 If you changed the Points to redeem option to 0 and also earned 6 Payback points.
This e-voucher is basically cash to buy more stuff but do remember to again goto payback and then goto the brand website to use this voucher to earn more loyalty points as per triple benefit already shown 😊
Please do note before buying vouchers that some of these vouchers work in either online websites or in physical brand stores, so please read terms and conditions before buying.
My Take on this
Payback is a great loyalty program and it rewards you with reward points for what you were already planning to spend money on. You just need to visit payback site and then go the brand site.
You can use this method to earn more reward points on your shopping and increase your savings. And redeem these Payback Points for goods and stuff that you regularly buy.
I have saved thousands every year by redeeming these points to buy e-vouchers & then use them to buy stuff on Amazon, Flipkart, KFC, Van Heusen etc.
As you can see, I have currently 18171 points valued at Rs. 4542 and I redeemed around Rs 8000 as part of my payment to buy clothes last October for a marriage function adding to my Bachat.
Keep reading to learn more saving options. More Bachat on the way!!!!